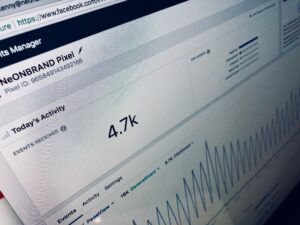 Is Facebook Advertising Effective?
Facebook has more than a billion active users and half of them log in on a daily basis. Through Facebook advertising, you can be sure to reach any particular segment.
Conventional advertising models are expensive and difficult to reach a narrow target. Facebook advertising is one option that can get you results and target specific user groups. You may be the local beauty parlor, restaurant or a Fortune 500 organization, but Matt Knopoff Design will show how to build your brand equity through Facebook advertising.
Consider these ideal scenarios:
You own a local restaurant and wish to target those who are recently engaged to be married for their catering business. Just locate the women with the relationship status of "engaged" on Facebook and you have your desired segment with Facebook Ads.
There is a birthday special that your restaurant is offering (i.e. similar to a Portillo's cake).  Your Facebook ads would be displayed only to those who have birthdays using a custom audience.
An event is being organized and you wish to target local college graduates, who are single and within a specific age range. You can select this detailed targeting when creating your ad set.
Facebook Marketing and Facebook Advertising
-Facebook Advertising on average is MUCH cheaper than Google PPC (Adwords).
-According to the 2010 Social Media Report from Foresee, 69% of online shoppers regularly use social media sites.
-Facebook PPC and Facebook PPI are the two ways to advertise on Facebook site
Matt Knopoff Design can help you decide which type would give you maximized returns for your investment.
Here are sample advertisements I can create for you:
Craving Italian Food?
Come visit our new Pizza kitchen in downtown Miami Beach sitting ocean-side. We specialize in Authentic Italian Cuisine. 'Like' us on Facebook and receive 20% off your next visit OR a FREE app!
Audience: You are targeting people age 18 and older in Miami Beach, FL, Daytona Beach FL, Hollywood FL, and Fort Lauderdale FL. who "like" Italian Food. In addition to the above criteria, the ad can be scheduled for display only during lunch hours or during dinner hours.
Planning Your Dream Chicago Wedding
We can help alleviate your stress! Read reviews and find great discounts on dresses, flowers, caterer and photos. Sign Up FREE by clicking below!
Audience: You are targeting women age 18 and older who are in a relationship or engaged in Chicago who have "liked" wedding pages.
Textbook Store
We have cheaper textbooks than anyone else! Facebook users get 25% off thru Friday!   Browse our vast selection for next semester now.
Audience:: Targeting students 18 and older attending local colleges. You can further narrow this to specific colleges, by choosing them from the list of colleges provided.
At Matt Knopoff Design, we help in Facebook advertising by using demographics, which help you to zoom in to your target market with total accuracy.
Facebook Marketing
Facebook marketing is relatively new and only a few have a grasp of how it works. Many claim to be a Facebook Marketing Expert when all they really know is how to use Facebook to post and 'like'.
Matt Knopoff Design is your Facebook marketing expert in Mundelein and can advise you on how to harness the power of social networking sites. I will show you how to design, develop and promote your brand through Facebook marketing.
Facebook Fan Page Creation
Matt Knopoff Design can help in a Facebook Fan Page Creation, which would help your brand further connect and engage with users. You can also message them about relevant developments and special offers. This page can be used as a huge email auto-responder.
Get a FREE Facebook paid ads quote ⬇️